Last night, October 28th, was a very festive occasion at Embassy Suites LaVista Convention Center. It was the site of the Sarpy County Chamber of Commerce's 20th Anniversary Annual Awards Celebration and showcased another great business year in Nebraska's fastest growing county.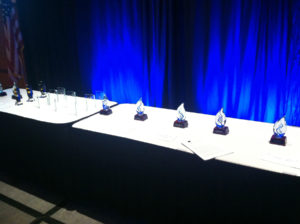 Following Chamber President Karen Gibler's welcome and Steve McLaughlin's invocation, attendees thoroughly enjoyed the evening's delicious food and drink and applauded the various nominees and winners.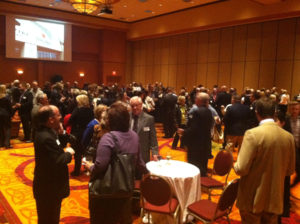 Speakers and presenters at the podium also included Lori Bickford, outgoing 2015 board chair, Lois Erickson of Papillion LaVista Community Schools Cooperation Best, 2015 Board Chairman Alan Kennedy, Sarpy Chamber Board of Directors 1st Vice Chair Lowell Ferguson, current and formers board members Steve Zey, Tim Gay, Tom Kerfoot, Scott Buchholz and Eric Jones.
There was plenty to cheer about and much laughter as well, particularly when Murphy's Law briefly took over the PowerPoint presentation we'd thoroughly tested before the dinner…a good character-builder for this humble sound man!
Midwest Sound & Lighting is proud of our partnership with the Sarpy County Chamber of Commerce and quite grateful for receiving an SCCC Excellence Award ourselves! We congratulate all nominees and winners on their accomplishments and thank the Sarpy County Chamber of Commerce staff for their hard work on behalf of the business community.