As the sun came up Friday, June 16, Tiburon Golf Club was abuzz with activity. The occasion was "Business on the Green", one of the Greater Omaha Chamber's premier events. BOTG is an annual opportunity to shed tie and jacket, and trade the office and water cooler for the golf course and some cool ones.
It's no secret that this is a fun-filled day at Tiburon, with friends, Mother Nature, good food and drink, and even a little golf. As in the past, retired Chamber legend Larry Gomez returned to emcee BOTG. Larry's years of experience and easy-going, fun-loving attitude behind the mic sets everyone up for a wonderful day, and it's a personal pleasure to work with my old friend again. For the morning flight, we sent them off to "How Long", by Ace.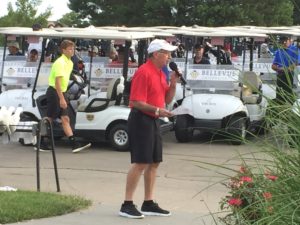 For the afternoon flight, Larry chose a personal favorite, "September", by Earth, Wind, & Fire, to launch the golfers. All golfers were in high spirits as they sped off to their respective tees, with Chamber President and CEO David Brown even tossing me a peace sign as his kart headed out.
Once the karts had all left, we spun the speakers around towards the course and cranked it up to give everyone some good music to golf to. I always enjoy the comments I get about my playlist from Chamber golfers and the terrific Tiburon staff, which sometimes include song requests. It's fun to be me, especially for BOTG!
Midwest Sound & Lighting was happy to again partner with the Greater Omaha Chamber for BOTG, as we are the event's sound and music sponsor. It makes for a too-early morning for this aging rocker, but as the sun comes up, the music starts, and folks begin to arrive, I'm always glad to be involved. We used (4) 12", all-weather JBL AWC loudspeakers, Shure wireless microphones, an Allen & Heath ZED mixer and a Crown power amp to provide crystal-clear, feedback free audio and full-bandwidth music.
Congratulations to the Greater Omaha Chamber for another splendid "Business on the Green". See you next year!
Best wishes,
JR/MSL