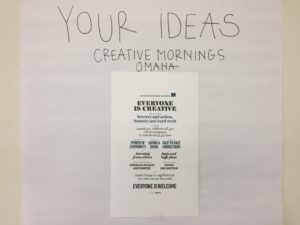 CreativeMornings in Omaha and around the world
Omaha has officially been accepted into the CreativeMornings community and joins 157 other cities across the globe. CreativeMornings is a breakfast lecture series and will serve as a new outlet for our city to be recognized on a global scale, adding to Omaha's strong arts and culture scene and growing reputation.
Kim Sellmeyer, creative director for the Greater Omaha Chamber and Steve Gordon, brand architect and founder of RDQLUS Creative serve as co-hosts for the Omaha chapter. Sellmeyer's desire for Omaha to become a CreativeMornings community came from the We Don't Coast brand building process and the need for our community to have a place where creatives could come together to collaborate. Kim was inspired, got busy, and assembled a team to make it happen in Omaha.
When Kristy Fortenbury, also of the Greater Omaha Chamber, reached out to Midwest Sound & Lighting to ask if we'd be willing to partner with the Chamber on CreativeMornings and introduced me to Kim, we agreed before we really knew what we were getting into. I'm sure glad we did.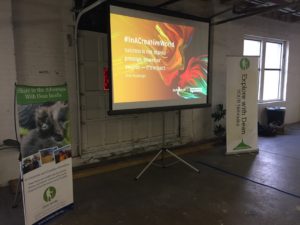 On Friday, November 11, 2016, well over one hundred "creatives" gathered at Hot Shops to kick off CreativeMornings, a unique networking event sponsored by the Greater Omaha Chamber. I have attended dozens of Chamber events; none like CreativeMornings.As things got underway, Kim introduced Tiziana Green from TD Ameritrade, an Italian-American, who helped us all greet other creatives gathered in Rome, by saying "Hello from Omaha, we love Rome!" in Italian to our Italian counterparts.
Kim was a warm and welcoming emcee, and, after encouraging us all to hug or high-five our fellow attendees, introduced featured presenter Dean Jacobs, a world-traveler, photographer, speaker, committed "creative", and Wahoo, NE native.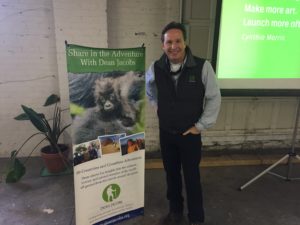 In his presentation, Dean took us around the world a few times, re-tracing his journeys via maps and power-point presentation and related incredible stories about being a solo world-traveler who found himself with silver-back gorillas, at base camp on Mount Everest, chasing forgotten bags on a motor scooter, and many other adventures. Dean urged us all to follow our dreams, and to make them realities, as he had done. For more about Dean and his travels, check out: www.deanjacobs.org.
I have rarely been in the company of more creativity than Omaha's inaugural "CreativeMornings". I look forward to the next one with great anticipation. I'd say the sky's the limit, but I think there may be no limits at all on Omaha's creativity. See you December 9th at Omaha's next "CreativeMornings".