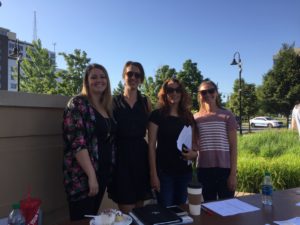 On a beautiful Friday morning in Midtown Omaha, the Greater Omaha Chamber held another session of "CreativeMornings" a world-wide celebration of life and creativity. A nice crowd of about 60 local creatives ate pastries and fruit and chugged gallons of good coffee as they assembled near the Midtown Stage. And, as usual, the Chamber's Kim Sellmeyer and Steve Gordon welcomed us all, and before long, the hugs and high-fives were circulating throughout the crowd.
Today's theme was Survival. Our presenter was Joey Bierman, a Senior at Wayne State College studying Marketing, who told us:
"It isn't about what happens to you, it's about how you react to it."
These wise words form the credo of spinal cord injury survivor Joey Bierman, whose accident upended his goals and dreams. However, Joey didn't stop or give in to fear. Instead he rededicated his effort toward recovery and eventually returned to school at Nebraska's Wayne State College. Now an intern with QLI's marketing team, Joey is guiding QLI clients toward positive, purposeful life choices. His calm demeanor, experience, and outlook continue to be assets for the rehabilitation community.
Joey's talk was full of humor, insight, reflection and encouragement and was another big hit for CreativeMornings. We all face unexpected challenges and hurdles in life, and it helps to see how others navigate (and SURVIVE) rough water.
Midwest Sound & Lighting is a proud sponsor of CreativeMornings. We used a pair of 1KW QSC K-12 powered speakers, Shure/Countryman wireless microphones (with windscreen) and an Allen & Heath mixer to provide crisp, clean, feedback-free audio reinforcement.
I can't think of a better way to start a Friday than to gather with fellow Omaha creatives for some good coffee, stimulating conversation and encouragement. Please consider attending the next session; you'll be glad you did.
I hope to see you at the next CreativeMorning.
Peace, love, out-
JR