28,927,284 minutes, 482,074 hours, 20,086 days, 2,869 weeks, 660 months or, in simpler measure, 55 years. That's how long Jackie Hegarty has worked at the Greater Omaha Chamber of Commerce, reliably answering questions and phones, helping all sorts of folks positively inter-act with the Chamber in countless ways, and being, as Chamber President and CEO David G. Brown said with a smile, "Director of First Impressions". Put simply, Jackie is a gem!
Jackie's seen and done it all in her tenure at the Chamber. Recently retired Chamber icon Larry Gomez (who gladly returned to emcee Jackie's party) ran down a few choice stories about Jackie, including tales of giving directions to folks leaving Eppley Airfield in rental cars on how to get to the Chamber office and drive by Warren Buffett's house on the way.  We all know, Warren's house is not "on the way", but that didn't stop Jackie from giving said directions and making new friends for Omaha.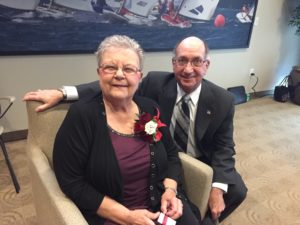 When Larry Gomez joined the Chamber, back in 1976, he was told, "Just ask Jackie" when he needed some information. Jackie had already been
employed by the Chamber for fifteen years when Larry came on board! Larry retired in March of 2013, but was tickled to come and help us honor his old friend and cohort, and was on top of his game, to the delight of Jackie and all attendees.
David G. Brown, obviously enjoying the occasion, carried a nice, plush chair to the front of the room so Jackie could be comfortably seated to hear her praises sung by her colleagues and friends. Tim Stuart, from the Chamber's Legislative Counsel, read a statement from Nebraska Governor Pete Ricketts, proclaiming Jackie to be an Admiral of the Navy of the Great State of Nebraska, which drew much applause. Omaha City Councilman Pete Festersen read the City Council's proclamation stating that Thursday, October 20th, 2016 was "Jackie Hegarty Day" in Omaha, which also drew enthusiastic applause.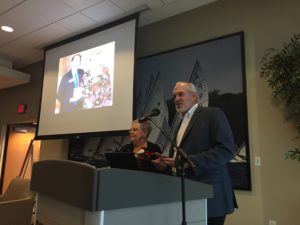 Video clips rolled throughout the party, with some great shots of Jackie's storied career and various Chamber events and celebrations. Beyond the obvious love and gratitude so many expressed to Jackie for her five and one-half decades of superlative service, there was plenty of hosted wine, beer and La Casa pizza for all to enjoy.
I have been involved in countless Chamber functions in the last 10 years and Jackie's retirement party was among the most fun events I've attended. Really.
Midwest Sound & Lighting was happy to help sponsor Jackie's retirement party by providing sound reinforcement and background music. We used an Allen & Heath ZED mixer, Shure wireless microphones and QSC K-12 powered speakers to provide crystal-clear audio without a trace of feedback. We congratulate and thank Jackie Hegarty for her fifty-five years of outstanding service to the Greater Omaha Chamber of Commerce and wish her the very best that retirement has to offer.