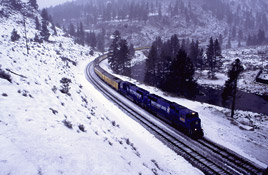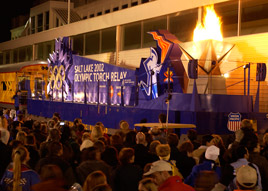 2002 Winter Olympics Torch Relay
Salt lake City, UT
For the 2002 Winter Olympic Games in Salt Lake City, the Union Pacific Railroad created a specially designed railroad car to carry the Olympic flame across the United States. Referred to as the "Cauldron Car", it was part of Union Pacific's "Olympic Train" which included two locomotives, 13 passengers cars, and 3 service cars with the cauldron car serving as the caboose. The entire train was painted with Salt Lake's "Look of the Games" style, known as "Land of Contrast – Fire and Ice". The cauldron car contained a 2 million-BTU burner to contain the flame. The Olympic train carried the flame during the 2002 torch relay for a total of more than 3,200 miles through 11 states. The cauldron car was donated to the Utah State Railroad Museum at Union Station, where it is currently on display.
Since the train made stops at many major cities and allowed dignitaries the opportunity to address the local audience, it was provided with a compact but powerful sound reinforcement and playback system. Ruggedness and weather resistance were of extreme importance since the car had no suspension and was entirely exposed to the elements. Eight modified Bose compact line array loudspeakers remained in use throughout the trip and took a great deal of punishment in terms of environment and electroacoustic demand. A Lectrosonic mixing unit was controlled by an AMX wireless touch panel which was provided with custom programming to simplify operation of the car for operating personnel. This allowed remote level adjustment and playback control of the Olympic theme music in addition to important control of the sound system level and basic parameters. A solid state Mackenzie unit provided the music source and three QSC amplifiers powered the loudspeakers.
It was our pleasure to have been involved with this historic event. Once again, Midwest Sound & Lighting was offered a unique technical challenge and was uniquely qualified to be up for the task. Regardless of the limitations and difficulties, Midwest can take on the project. It is our passion.