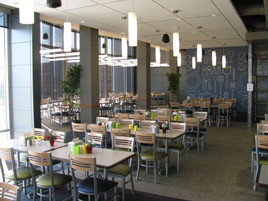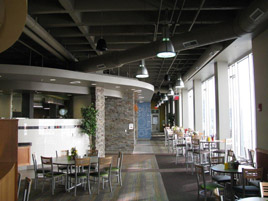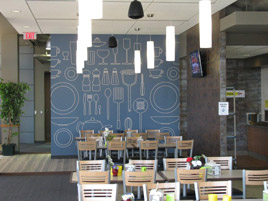 Abel Hall Dining Facilities- UNL
860 N. 17th Street, Lincoln, NE
The newly renovated Abel Hall sets a standard for versatility and quality in a campus dining facility capable of providing for well over a thousand people at a single meal. An extensive selection of culinary choices is offered buffet style and all you care to eat is complimented by an abundant salad bar, sandwich station, and bakery-fresh desserts. Professional catering is also operated out of the facility with a wide variety of menu options including themed buffets, elegant hors d'oeuvres, receptions, or formal banquets.
Technology is an important feature of this facility. Wireless internet, many large screen (42 and 32") video displays and a full range high quality audio system is all part of the design. Any one or all of the video displays can present any of many sources ranging from network television to college sports and entertainment broadcasts. Informational displays provided also present menu items and other timely communication. The technology has a security function as well, in that it offers the ability to provide public address in the event of impending weather, alarm or other incident.
Facility-wide video is provided on CAT5 data cable and delivered with Extron distribution devices. Matrix switching and scaling provide video source selection. An AMX wireless touch pad control system allow convenient user adjustment by system administrators. The sound system includes a large number of Soundtube loudspeaker products and is power by Ashly NE series power amplifiers.
We are happy we were given the opportunity to partner with the University of Nebraska at Lincoln on this project and look forward to continuing to provide support for their technology needs in the future.