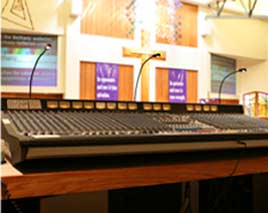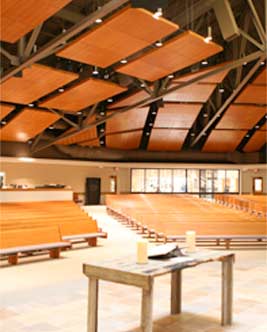 Bethany Lutheran Church
4200 N. 204th St., Elkhorn, NE
www.bethany-lutheran.com
This installation includes a complete sound, lighting, video and control systems installation in both the Sanctuary and the Family Life Center. This case study illustrates the win-win relationship we strive to achieve between our customers and Midwest Sound & Lighting.
The Designed Systems Group of Midwest Sound & Lighting worked directly with the architect on behalf of Bethany Lutheran Church on this project.
The installed sound is a custom manufactured loudspeaker system with architecturally integrated subwoofers. Full-range loudspeakers are flown and hidden between acoustical clouds and theatrical lighting fixtures. A large-frame Allen & Heath ML4000 analog console was chosen to work well with numerous guest artists as well as Bethany's accomplished musicians. Crown power amplifiers, Shure microphones (wired and wireless) various EAW loudspeakers and an Aviom monitor system fill out this very capable sound system.
The Designed Systems Group also custom built, configured and installed a media computer specifically for large venue projection displays. Bethany employs a rear-projection video system including high-contrast LCD panels for confidence monitors on the platform. AMX control technology is used, in addition to an Extron video switcher which feeds the Sanyo projectors.
Bethany Lutheran's performing-arts-center-quality Strand lighting system is also quite sophisticated, and includes a full rack of Strand dimmers, SL luminaires and provisions for moving-head fixtures via the Strand 300 lighting controller.
As a side note, the existing sound, lighting and video systems in the Sanctuary were removed and re-installed in the Family Life Center, extending their useful life and adding needed capability to the FLC.
It is our pleasure to continue to provide long-term service and support of these systems for the Bethany church family.