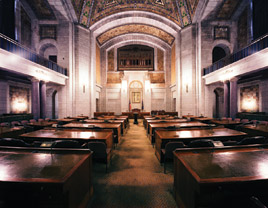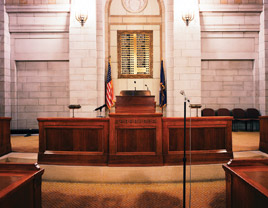 Nebraska State Capitol
1445 K Street, Lincoln, Nebraska
When the Nebraska Unicameral Legislature appropriated funds for the restoration and renovation of the East Legislative Chamber, Midwest Sound & Lighting was called upon to provide modern technology solutions to existing problems. The preservation work in the East Chamber involved restoration of the original finishes in the Chamber and renovation to accommodate the latest audio and video technology.
Lighting fixtures were repaired, and the original voting stations returned to the Senator's desks. The restoration of the bracket lamps in the East Chamber involved removal of the lamps from the walls, cleaning and rewiring, and the replication and replacement of broken parts. The Chamber was also fitted with a sophisticated compliment of new audio/video technology. When possible, the addition of audio and video equipment was masked with finishes which blend with the background colors of the Chamber's surfaces. As has been typical of Midwest Sound and Lighting, work in this sensitive historic facility proceeded with an attention to every detail.
The extensive equipment list for the East Legislative Chamber included Crown condenser microphones and dual channel wireless microphone systems from Shure. A complete electronics package including digital signal processors from Rane and loudspeakers custom manufactured for the project by JBL were provided. An audio system with surround capabilities was provided to compliment video projection and playback in the space.
The completed project provides a tool for the Legislative Chamber to improve their communication as well as a modern updated facility that the people of Nebraska can be proud of. Midwest Sound & Lighting is happy to have been involved. We look forward to continued assistance to the Nebraska Unicameral Legislature whenever they need to improve or maintain their facilities. With an extensive background in the renovation of historic spaces, Midwest Sound & Lighting is uniquely qualified to help in such projects.