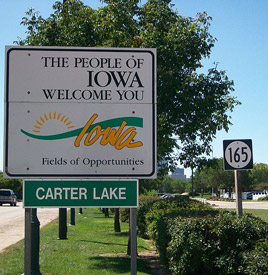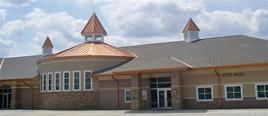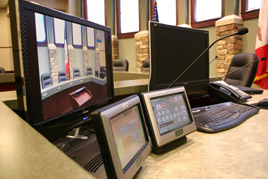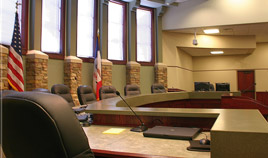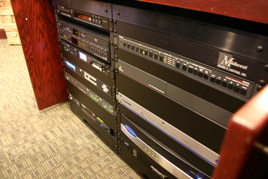 City of Carter Lake Administration Building
950 Locust Street, Carter Lake, Iowa
In March of 1877 a flood occurred that redirected the course of the Missouri river near Omaha Nebraska. The old Saratoga Bend of the Missouri river was cut off and became an oxbow lake. Soon after, the area was named Carter Lake and the newly formed lake became a popular recreational area. Today, the city is the only community west of the Missouri River that is part of the state of Iowa. Although limited by well-defined geographical borders, the city has seen growth in the past two decades by new homes construction and development along the lake.
It became obvious that the City of Carter Lake was in need of new facilities to house the administration and law enforcement personnel. Midwest Sound and Lighting was contacted to provide a turn-key design and installation of technical systems to meet the needs of the new facility.
A complete A/V system for the City Council Chambers was designed. It included digital signal processing to provide automatic mixing of council microphones as well as control of three PTZ robotic video cameras. This allows users to be certain that persons speaking are also recorded for future broadcast and archives without the need for an operator. Large format video projection units provide crystal clear video image quality on motorized screens regardless of ambient light from the exterior windows at the front of the room. The large format video screens accept computer and other media sources for support of meeting events.
The law enforcement portion of the facility includes interrogation and interview rooms outfitted with covert audio and video devices to collect information for legal archives. Sophisticated signal processing, once again, insures that the sounds and images collected are more than clear enough for the intended use.
An additional training/multi-purpose room includes A/V systems to support activities there. That system uses a video projection unit, screen and sound reinforcement/playback system with distributed loudspeakers to provide tools to the presenter.
The past two decades have seen improvements in the city. The recent construction of the City of Carter Lake Administration Building has provided new offices for the community. We congratulate the city on their new facilities and pledge to help them with any A/V needs they may have in the years to come.