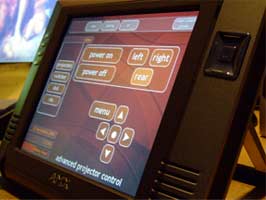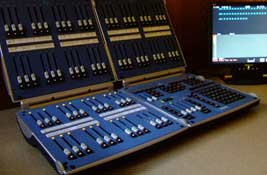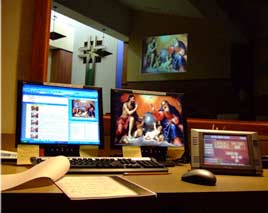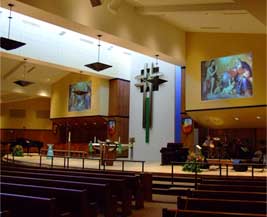 Divine Shepherd Lutheran Church
15005 Q. St, Omaha, NE
www.divineshepherd.org
This installation includes sound, lighting and video systems for Divine Shepherd Lutheran Church's new Sanctuary. As is frequently the case, the Designed Systems Group worked closely with the architect on behalf of the church to incorporate the A/V systems into design documents, resulting in seamless system integration. Midwest Sound & Lighting continues to provide long-term service and support of these systems at Divine Shepherd Lutheran.
The heart of the sound system is the large frame Allen & Heath sound console, chosen for its sound quality and reliability. Other significant components include Crown power amplifiers, Shure wired and wireless microphones and EAW custom manufactured loudspeakers with subwoofers.
The video system employs three rear-projection units with Extron switching and custom configured AMX control systems. Video system capabilities are further enhanced by using Sony robotic cameras and controls.
The lighting system was the first in the region to use the Strand C21 dimming system with a Strand console and Strand SL luminaires. Strand system technology provides high reliability and precise dimming for drama and theatrical as well as everyday events.
The integrated systems include wideband cabling and distribution for any future control and digital signal distribution requirements.
It is our great pride and pleasure to provide Divine Shepherd Lutheran Church with these technical systems and partner with them as they worship for years to come.