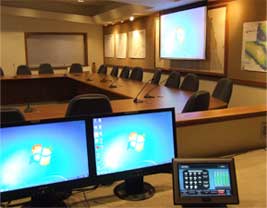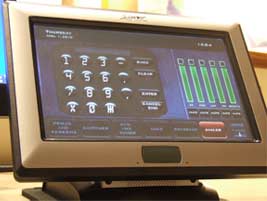 Lower Loup Natural Resources District
Ord, NE
www.llnrd.org
When the Lower Loup Natural Resources District expanded their office building to include both a new Boardroom and Conference room with all the technical capabilities needed for such spaces these days, they called Midwest Sound & Lighting.
One of the major challenges in the Boardroom was making sure that all 18 board members seated at the massive U-shaped oak table (and also those speaking at the podium) were able to hear and be heard by each other as well as the people seated in the gallery. In addition, it was imperative that audio from the proceedings be preserved for archival purposes. The district director also desired the ability to engage the entire room in an audio conference with remote parties who were not able to attend in person. To meet these needs, Midwest Sound configured a powerful audio processing platform manufactured by Symetrix. This ensured that clear, feedback-free audio from the Shure microphones made its way to the room speakers, digital audio recording system and digital conferencing network.
Of course, video presentation is a must in a modern meeting space, and this room is no exception. High-resolution map software is an integral part of the district's decision-making mission. Initially, one video screen was envisioned. During construction it was decided that an additional larger screen at the opposite end of the room would be required with the ability to present independent, simultaneous images on each. Midwest had the answer in the form of an Extron multiple-input, dual-output switcher/scaler that could handle any input, whether DVD, VCR, Cable TV, PC or laptop sources with ease.
Since the system had to also be simple to operate by a single person, an AMX custom-programmed control system with a 10" color touch panel was a necessity. A smaller 4" touch panel was added at the podium for intuitive operation by presenters. To round out the high-tech amenities, a Hitachi Star-board touch-screen monitor was installed at the podium for presenter remote control and annotation of presentations running on the main PC.
The smaller conference room contains similar capabilities, although somewhat scaled down. The ability to walk up to the 77" video screen and manipulate the PC with a finger or stylus, again courtesy of a Hitachi ultra-short-throw projector and Starboard software was included, and is a tool the staff of the NRD would not wish to be without!
We are happy to be the technology partner with the Lower Loup Natural Resources District. We look forward to a future where Midwest Sound & Lighting, Inc. can continue to provide solutions that are appropriate, cost effective and capable of satisfying the day to day requirements of this meeting space.