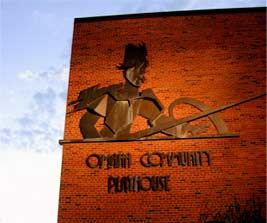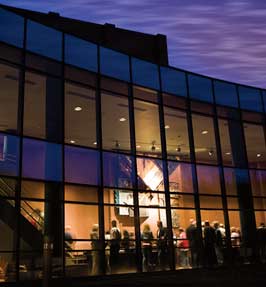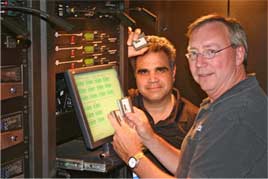 Omaha Community Playhouse
6915 Cass Street, Omaha, NE
www.omahaplayhouse.com
Over a period of three years, a completely new sound, intercom and backstage monitoring system was installed in the Playhouse main-stage theater. Previous work at the facility involved installation of a set of new systems in the Howard Drew performing space adjacent to the main-stage. Designed, installed and commissioned entirely by the Designed Systems Group of Midwest Sound & Lighting, the new sound systems represent a significant improvement of the capabilities of the nation's largest community theater.
The sound system is a versatile, multi-channel distributed system which allows panning of sound effects a full 360 degrees around the majority of the audience seating area. Also included are low frequency loudspeakers mounted within the side walls of the theater for a complete full spectrum of sound bandwidth. After installation, the system was received by rave reviews for the production of "South Pacific". In that production, the sound designer was able to recreate, with stunning accuracy, the sound of the take-off roll of multiple fighter planes on stage complete with seat shaking rumble.
The core of the sound system is a Symnet digital signal processing system and Ethersound digital audio backbone. Multiple Ethersound based input output locations allow an extensive array of wired and wireless microphones to be connected to the system. Symnet also allows dedicated inputs and control for several "house PA" microphones as well as SFX computer based sound effects to be used in the theater independent of the sound console. A Yamaha digital sound console allows operators the opportunity to page through scenes set up by the production sound designer insuring that each and every performance sounds the same.
More than 11,200 watts of audio power are provided by a set of racks filled with Crown CTS series power amplifiers. The loudspeakers systems used in the theater are a variety of models from Renkus-Heinz and JBL.
Theater production communications is provided by Telex multi-channel intercom systems.
Listen Technologies manufactured infra-red transmitting systems for the hearing impaired and language interpretation. Two were installed in each theater.
It is our pleasure to provide the Omaha Playhouse with these technical systems and partner with them as they entertain theater goers for years to come.