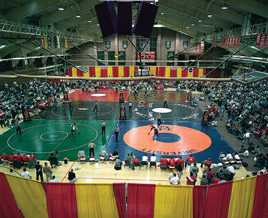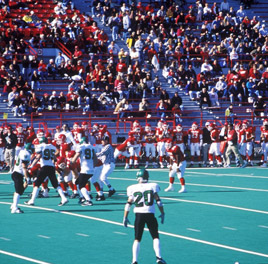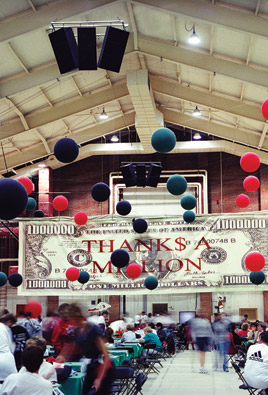 University of Nebraska at Omaha
6001 Dodge Street, Omaha, NebraskaLocated in the heart of the UNO campus, the Mavericks' home stadium, Al F. Caniglia Field, normally seats nearly 10,000 fans. The stadium includes a natural turf field. It boasts a new video display and scoreboard installed in the summer of 2010 with a sound system to match. All of the Maverick home football games are played at the facility.
The stadium includes a recently renovated, custom designed and built sound system comprised of large end zone loudspeaker arrays powered by Crown amplifiers and IQ digital signal processing. Distributed processors and installation on a network allow total control of audio performance. A combination of loudspeaker components were used for the loudspeaker arrays including custom manufactured high frequency horns with Electro-Voice transducers and Community M4 series midrange product. Additional low frequency systems include Community R6 products.
Sapp Fieldhouse at UNO has been the site of six national collegiate tournaments amid thousands of athletic events. Maverick basketball hosted its largest crowd in in 1979 with 5,200 fans. Sapp Fieldhouse is facilitates volleyball, men's and women's basketball, wrestling and indoor women's track.
The Fieldhouse sound system shares equipment racks with the stadium system, but has its own impressive compliment of Crown amplifiers and digital signal processing. Specially modified EAW loudspeaker systems are provided within the Fieldhouse and installed high above the court.
Other installations at the UNO facilities have included sound systems for the fine arts and theater department with ongoing support. We appreciate our partnership with UNO and enjoy every opportunity to provide our services. Go Mav's!