CreativeMornings – Symmetry
It was a bone-chilling -3° as I loaded our sound gear into the Omaha Design Center Friday morning, February 8, 2019. We were setting up for the most recent edition of "CreativeMornings", a world-wide event, sponsored locally by the Omaha Chamber.
To start things off (and to warm us up), we guzzled gallons of good coffee and munched on delicious baked goods. Per usual, hosts Kim Sellmeyer and Steve Gordon welcomed everyone and got us high-fiving, hugging, and all revved up for the presentation. Steve then ran around the room with a wireless mic so attendees could introduce themselves and speak of their current projects or collaborations. The CreativeMornings crowd is a diverse, inspiring collection of thinkers and doers, and these events always stoke and support our individual creativity.
Today's theme was symmetry, featuring artist and fashion designer, Dan Richters. Art is a central part of Dan's life. He began focusing on fashion design and creation in 2008. He enjoys painting, sculpture, drawing, music and views fashion as a media of expression. Dan spoke about the symmetry between conscious and subconscious creativity and the importance of allowing space for your subconscious to help solve creative problems and incubate inspiration. He quoted a few examples of his subconscious enabling him to progress on various projects when they seemed to bog down. It was enlightening and encouraging to hear.
Dan showed us how he will draw a pattern on cloth, make it into a dress or garment, then make a clay mold of the relief in the material. The result is
amazing in detail, and held everyone's rapt attention. He had mannequins in two of his fabulous dresses,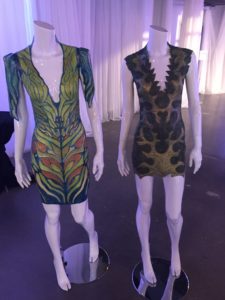 which drew raves from the audience.
Midwest Sound & Lighting is happy to partner with the Omaha Chamber and CreativeMornings to provide crystal-clear, feedback-free sound reinforcement for the event. We used a pair of 1KW QSC K-12 powered speakers, Shure wireless microphones, and an Allen & Heath ZED 14 mixer.
We look forward to the next stimulating installment of "CreativeMornings", and hope we see you there!
Peace, out-
JR/MSL